Anyone who has organized a successful event knows that you need two things:
A great concept
Plenty of bathrooms
We're going to focus on number two (pun intended). Specifically, how to rent a porta potty.
You might be wondering: "What type do I need? How many do I need? Who do I call?" We've been there, which is why we answer your questions in our beginner's guide to porta potty rentals below.
First, we run through the simple process of renting a porta potty. Then, we dive into the details – porta potty uses, types, placement, and more. Some topics, such as rental costs, require more attention, so we cover the basics here and link to our additional resources (below) for further reading.
Recommended Reading:
How to Rent a Porta Potty (Step-By-Step)
Make a List of Your Event's Details

Porta potty companies will need a few pieces of information in order to provide you with an accurate quote. Here's what we recommend you have ready:

The event type, location, date, and time.
Number of guests.
Rental duration, including unit delivery and pickup times.
The types of porta potties you will need, as well as how many you will want to rent.
How frequently you will need the units cleaned (daily, weekly, etc.).

Don't worry if you're unsure about unit types or how many you will need. We cover them in detail later in this guide.

Find a Few Companies in Your Area

We make this step very easy. We found every porta potty company in the country, organized them by city and state, and listed their information on this website. Head over to our rental locations page to select your area. From there, browse locations in cities near you. You'll even be able to see which types of portable toilets and restroom trailers each company offers.

Request Quotes

Provide each company with your event details and ask for a price quote. This is also a great time to ask any questions you may have. For example, how often do they plan to clean the porta potties? Do they guarantee on-time delivery and pickup? Do they offer any special rates or promotions?

Choose a Rental Company

Have a few quotes to choose from? You're now ready to make a decision!

Tip: Don't just focus on price. Consider product quality, customer service (in case something goes wrong), and online reviews.

Sign the Contract and Set the Schedule

Each company has its own rental process. However, most are pretty similar. First, you'll need to sign the rental agreement. In some cases this will include a deposit. Next, you'll need to finalize the schedule. You'll want to know the event location, placement of units, and the dates and times of delivery, cleanings, and pickup.

Now, let's dive deeper. Below, we break down every aspect of how porta potty rentals work.

Porta Potty Uses

Most people don't go through life taking note of every portable restroom they see; that would be strange!

But if you did, you would quickly realize how important they are. You see them almost everywhere, from casual outdoor events to bustling worksites. While the list of uses is nearly endless, some of the most common places you'll find porta potties include:

Campgrounds

Nature calls, including when you're exploring nature!

Community Gatherings

Everything from outdoor church events to block parties.

Concerts

One of the most common porta potty uses due to large crowd sizes

Construction Sites

Every "office" should have a bathroom. In fact, it's the law!

Farmers' Markets

Don't forget about vendors working long hours!

Food Festivals

The mac and cheese doesn't always settle well.

Home Renovation (for workers)

Workers will use a porta potty or your home bathroom; you decide.

House Parties

Especially valuable during large backyard gatherings.

Local Fairs

Deep-fried twinkies and corn dogs. Need we say more?

Music Festivals

Not just for guests. Consider the musicians, their crews, and event staff.

Outdoor Fundraisers

Don't skimp on your guests' needs, even if you're trying to raise money for a good cause.

Parades

Businesses don't appreciate being used as public restrooms when thousands line the streets.

Rest Stops

Rest stops often utilize restroom trailers as an affordable alternative to building permanent bathrooms.

Sporting Events

Primarily for outdoor sporting events (e.g., horse racing), as well as in parking lots for tailgaters.

Temporary Emergency Relief Sites

Disaster relief crews often work out of modular offices, and most do not offer bathrooms.

Weddings

Don't worry about smell or appearance, because restroom trailers are as luxurious as your big day!

Why You Should Rent a Porta Potty

We've heard all of the excuses for why people decide against renting portable bathrooms: public bathrooms are available, they're too expensive, they're a hassle, etc.

If you're wondering if you need to rent restrooms, then the answer is almost surely, "Yes!" Here's why:

Inadequate Bathroom Facilities

Most event venues and worksites do not have an adequate number of permanent bathrooms for their guests. This results in long lines and upset guests. Even worse, overuse of permanent bathrooms often leads to messy facilities and clogged toilets. This is a surefire way to make people unhappy!

Legal Requirement

The Occupational Safety and Health Administration's (OSHA) sanitation standards require employers to provide bathrooms to employees. You will want to know these laws if you run a construction site, or any other business, without permanent bathrooms. For information on porta potty laws regarding number of bathrooms, bathrooms by gender, and ADA compliant bathrooms, visit the OSHA website.

Control Crowd Flow

Don't overlook the benefit of controlling where your guests will use the restroom. You don't want bathroom lines blocking entrances, obstructing sight lines, or in any way impeding the crowd flow. Place porta potties in a few locations for convenience, and stick to areas with less foot traffic. Porta potties are portable, so take advantage of this perk!

Cleanliness

Serving food at your event? How about alcohol? If you answered "yes" to either, then you're going to want porta potties or restroom trailers as well. Why? Consuming food and alcoholic beverages greatly increases the frequency of bathroom visits. And if intoxicated guests are not provided with enough porta potties, then they will find an unpleasant alternative – take our word for it.

Be A Good Host

Porta potties provide much more than a place to use the bathroom. Parents want a private space to change dirty diapers, and people eating food want a way to clean their hands and freshen up. While there may not be a requirement to provide certain services, it's always better to treat your guests well.

Porta Potty Types: How to Decide

(Visit our comprehensive guide to porta potty types for unit descriptions, dimensions, and uses. You can also click on a type below for companies renting those units near you.)

There are 3 things to consider when choosing a type of porta potty:

Budget
Number of people
Expectations

Planning an outdoor wedding? Your guests will be wearing formal attire and will expect quality bathrooms. Assuming you'll have no more than 250 guests and your budget will be larger than a standard party, we would recommend a luxury restroom trailer. It will meet guests' expectations, offer multiple units to keep lines short, and only one needs to be fit into the budget.

Running a concert? You will have hundreds – maybe thousands – of guests with low bathroom expectations, so we would recommend standard porta potties. You can rent them by the dozen for cheap while keeping guests satisfied.

But that's just the tip of the iceberg! There are many porta potty manufacturers with various models, and nearly all of them fit into the following categories.

Common Types
Standard

Your run-of-the-mill single porta potty. They do not flush or offer many extras, but they can be rented in large quantities for low prices.

Deluxe Flushable

Imagine a standard porta potty with a flushable toilet. They usually include a few extras, such as a sink or hand sanitizer dispenser.

Construction (High Rise, Crane Hook, or Rollable)

High-rise, also know as rollable porta potties, are built on wheels so they can be moved around worksites. Crane hook porta potties look like standard units, but have metal hooks that allow cranes to lift them into buildings.

Towable (Trailer Mounted)

On the go? Try a towable porta potty, which is a single unit mounted securely on a trailer. It is lightweight and easy to tow.

Portable Bathroom Trailer

Also known as a luxury restroom trailer, this is the highest quality portable bathroom on the market. It comes in single- or multi-unit model with flushable toilets, lighting, running water, and more.

Wheelchair Accessible / ADA Compliant

A roomier porta potty serving individuals in wheelchairs. Additional support includes handrails and anti-slip flooring.

Green (Environmentally Friendly)

You can find environmentally-friendly porta potties in various models and sizes. They use eco-friendly chemicals and produce little waste. Solar-powered units provide additional features.

Solar

Solar porta potties offer the luxuries of bathroom trailers in smaller units. They convert sunlight to energy, which powers flushable toilets, running water, ventilation, and more.
Porta Potty Extras
Baby-Changing Stations

These can either be changing tables located within a standard porta potty, or an enclosed unit strictly for parents (toilet not included). While the former is more common, the latter is a cleaner option that parents love.

Portable Handwashing Stations

Handwashing stations are mobile sinks placed near portable bathrooms. They have built-in water tanks, so you don't need a water source.

Hand Sanitizer Dispensers

A less expensive option is to rent hand sanitizer stations. They're cheaper, though they don't offer the same peace of mind.

Paper towels

Ask your local rental company about options. They can be placed inside units or outside near handwashing stations.

Mirrors

Mirrors are typically mounted inside of porta potties. However, you may find mirrors on group handwashing stations as well.

Heating and Air Conditioning

If you're interested in heating and A/C, you will likely need to rent a luxury restroom trailer. That's because most manufacturers do not include them on standard units. Check local companies for options.

Electricity

You have two options for electric porta potties: solar powered units and units with electric hookups. Some companies require renters to provide the electric hookups, but the air conditioning, lighting, and additional benefits are worth it.
How Many Porta Potties Do You Need?
Determining how many porta potties you need to rent is one of your toughest decisions.
Renting too few could result in lines with 30-minute wait times, lack of supplies (e.g. toilet paper), and overused dirty bathrooms. This isn't just an inconvenience; it can completely derail your event.
Luckily, we put together a guide to how many porta potties you need to rent based on total guests and event duration. Head there to learn more about porta potty quantities and additional considerations, such as handicap restrooms. We even offer a porta potty calculator to make the process as easy as possible.
Looking for a quick estimate of how many you should rent? The table below lists how many standard units you should rent for normal events (no alcohol served).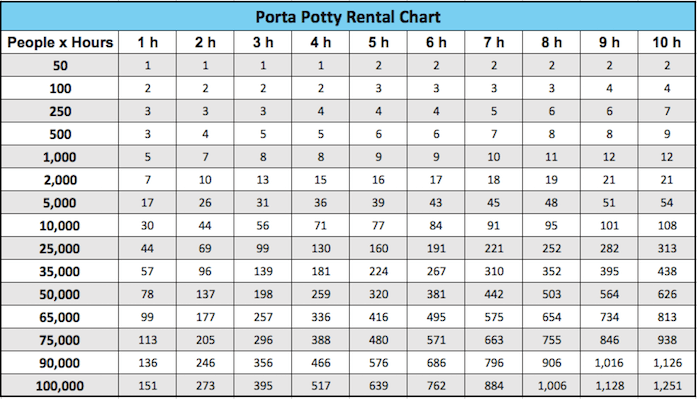 If you decide to serve alcohol at your event, then you will also need to provide more portable bathrooms. This is because bathroom use increases at a high rate as alcohol is consumed. We recommend an additional 10 to 15%. The chart below is adjusted to show how many porta potties you will need for events with alcohol available.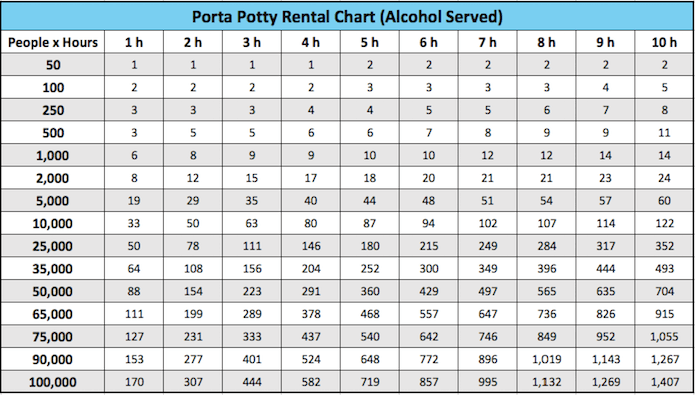 Ideal Porta Potty Placement
(Visit our guide to proper porta potty to learn about this topic in greater detail)
Knowing which kinds of units and how many you will rent is half the battle; the other half is knowing where to place them.
If you place your rentals too far away, then your guests might have trouble accessing them. Place them too close and the sight (and possibly smell) could be unsettling. And if you place all of them together, then you could ruin crowd flow by creating a traffic jam. Needless to say, placement is incredibly important.
Follow a few guidelines and you'll be set up for success:
Put your porta potties in multiple locations.
Place them off to the side of the most important areas of your event.
Always stick to solid ground; avoid dirt or otherwise soft ground.
Make sure they are accessible for the porta potty delivery vehicles.
Stick to secured areas to avoid have units stolen, damaged, or destroyed.
For more advice, read our full porta potty placement guide.
Porta Potty Cleaning Service
You probably wouldn't rent a porta potty if you had to clean it yourself. It's tough work, which is why rental companies provide this service to their customers.
How Are Porta Potties Cleaned?
You need to know how companies clean porta potties in order to understand how this affects your rental. There are quick explainer videos for beginners, but here's the process in a nutshell:
Your rental company's servicing team arrives at your location, parking within 25 feet of the units.
The team pumps the waste from each unit using a vacuum hose.
Next, they refill each unit with a deodorizing product (the blue liquid!).
The staff then hand scrubs the entire inside of each unit – flooring, walls, and seats. This disinfects the entire porta potty.
Finally, they restock each unit with toilet paper and extras, including soap, hand sanitizer, and paper towels.
Scheduling Cleaning Service
As you can see, this is not a job you want to do yourself. That's why you should schedule periodic cleanings throughout the duration of your rental.
Nearly all companies include one porta potty cleaning per week for a month-long rental. You can schedule additional individual cleanings or recurring cleanings. For example, you might pay $40 for a single additional cleaning, or you could schedule additional weekly cleanings for around $100 per month. Prices depend on quantity and type of units, but cleanings are cheap (and worth it!).
To learn more about porta potty cleaning costs, head over to our pricing page.
How Much Do Porta Potties Cost?
The short answer: not as much as you may think!
The price you pay is primarily determined by the unit types and how long they're rented, with the norm being weekly and monthly rentals. For example, you can rent a deluxe flushable porta potty for about $165 per month. If you opt for a shorter rental, you're still likely to pay a similar price.
There are dozens of factors that can influence price, but the most important are:
Type of portable bathroom
Rental duration
Delivery distance
Number of cleanings
Extra amenities
We discuss this topic at length in our guide to porta potty prices. That's where you will find average daily rental prices by type, how much cleanings cost, and advice on scoring a cheap porta potty rental. You can find some of this information on the rental price chart below.